Press Releases
MUSHILL RECEIVES CAREER AND TECHNICAL EDUCATION AWARD FROM MADISON COUNTY
RELEASE DATE: June 15, 2023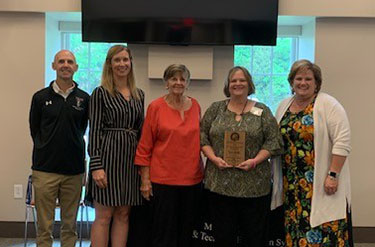 PICTURED LEFT TO RIGHT:Andy Brendel (Triad High School), Carol Sparks (Chamber Board), Sue Johnson (Dawn's mom), Dawn Mushill, Linda Manley (Chamber Board)
It was a day full of awards at the Mannie Jackson Center. The Madison County Career and Technical Education (CTE) Department brought together the CTE award winners, along with their guests, to honor theme at the award luncheon.
One of the awards presented was the "2023 CTE Business Supporter of the Year" Award. The award was given to Dawn Mushill, Executive Director of the Troy/Maryville/St. Jacob/Marine Chamber of Commerce. The nomination was made by Triad High School Teacher Andy Brendel:
This individual has been a champion for the Triad Career and Technical Education Department and the entire Triad District for many years now. They (the Chamber) have helped guide students in Adult Living classes with their community service project and provided resources to the Future Teachers of America in their exploration of a movie night.

Most recently, they invited seniors to the Women's Business Conference, secured numerous sponsors for the Annual Egg Hunt, and helped coordinate a job fair that connected students to local community businesses. They are always willing to help where they can and their passion and commitment to the THS community is unmatched.
Mushill was extremely appreciative of the award, noting that the Chamber is honored to support the Triad School District in every way that they can. "Our goal is to connect Triad staff with members of the community and also provide resources when requested" said Mushill. Mushill has been the Executive Director of the Troy/Maryville/St. Jacob/Marine Chamber of Commerce since 2000.
For more information on the Troy/Maryville/St. Jacob/Marine Chamber of Commerce, visit their website at www.troymaryvillecoc.com or give them a call at 618-444-6808.
Rep. Meier Honors Two Local Women at State Capitol
RELEASE DATE: April 27, 2023
Springfield, IL…Illinois State Representative Charlie Meier (R-Okawville) honored Dawn Mushill
Executive Director of the Troy/Maryville/St. Jacob/Marine Chamber of Commerce and Louise McMinn from the Bond/Clinton County Health Department at the Emerging Women Leaders brunch held at the State Capitol on Tuesday. The event honored the contributions of emerging female leaders from throughout the state.
"Dawn Mushill and Louise McMinn are two leaders making a positive impact in our region," said Rep. Meier. "Dawn is working to promote job creation and expansion in our communities and Louise strives each day to keep our community safe and healthy, she served in a critical role to help guide our region during the pandemic. I appreciate their contributions to our region and appreciate their dedication as two emerging leaders in the Metro East."
Dawn Mushill and Louise McMinn joined 50 female leaders from across the state who are each taking bold steps to make Illinois a better place to live and work. In addition to the recognition brunch, the group participated in a discussion about what issues are important for Illinois women, and how the General Assembly can create policy that reflects their priorities.
Rep. Meier added, "I was honored to recognize Dawn Mushill and Louise McMinn, two emerging women leaders at this special event while providing them the opportunity to share their plans to help the communities we represent with my colleagues in the House of Representatives. We heard from dozens of female leaders from around the state, including Illinois Supreme Court Justice Holder White, Lt. Governor Juliana Stratton, and Architect of the Capitol, Andrea Aggertt. We learned from women leaders from across Illinois and appreciate the stories we heard."
The contributions of these two women were further recognized by House Republican Leader Tony McCombie from the House Floor during session on Tuesday at the Illinois Capitol in Springfield.
State Representative Charlie Meier represents the 109th District which includes portions of Bond, Clinton, Madison, St. Clair, and Washington counties.
For more information, please visit CharlieMeier.net or contact Rep. Meier's district office at 618-651-0405.
*Picture enclosed, from left to right Louise McMinn, Dawn Mushill, and Rep. Charlie Meier.
CHAMBER DIRECTOR CELEBRATES 20 YEARS WITH CHAMBER
RELEASE DATE: June 23, 2020
Do you know a job description that includes dancing with Elvis, riding on a Circus elephant, throwing out the first pitch at a minor league game, singing with a big band, climbing a cell tower, holding an alligator, dressing up as Santa, serving as a guest checker at a local grocery store, changing your organization's name four times, building I DOOD IT booths, giving the high school commencement speech, singing the National Anthem at a race, riding on the back of a convertible in the homecoming parade and driving around town in a big green Chambermobile? The job description would be for the Executive Director of the Troy/Maryville/St. Jacob/Marine Chamber of Commerce.
The Chamber's Executive Director, Dawn Mushill, celebrated twenty years in her position on June 6, 2020. "It has been quite a ride. If anyone would have told me that the journey would include everything that I have done, I would have never believed them" said Mushill. The journey has indeed been a fun ride, with the Chamber membership growing from 111 members in 2000 to 500 members in 2019, and Mushill contributes much of the Chamber's success to her Board of Directors, Ambassadors, staff and members. "If you surround yourself with great people, great things will happen" said Mushill. She has literally met thousands of people in her time at the Chamber and has built long-term relationships with many of them.
The Chamber Presidents have been a very intricate part of the Chamber's success. Some of the past Chamber Presidents include Gerry Eckert, Jeff Maclin, Jean Myers, Dr. Mike Johnson, Chad Davis, Linda Manley (who is serving her second term as president in 2020) and several more names you might recognize.
Mushill talks with us about her experience with the Chamber and remembers applying for the position. "I remember applying for the position in February of 2000. I had left a previous position in January and was teaching full time for Southwestern Illinois College while I was looking for a job. We had moved from Granite City and built a house in Troy in February. I saw the job advertisement in the Times-Tribune and applied, at that time knowing absolutely no one in Troy. There were 78 applicants for the position so I didn't think I had a chance. In the first interview, I remember taking a list of suggestions that the Chamber could do. I explained that even if I didn't get the job, the Chamber could use the list.
On the second interview, I arrived with even more suggestions. And guess what – on the third interview, I brought even more. At the end of that interview, the committee noted they would let me know if I did or not get the job. At that point, Jeff Maclin said 'I like what this lady has to say – I would like to hear more' and I think my smile was as big as it had ever been.
LET'S GO DRINKING W/DAWN, AND AN EXPERT!
RELEASE DATE: June 12, 2020
What happens when you gather an expert, Dawn Mushill and a team from Troy McDonald's? Well, you get fifteen minutes of knowledge, fun and well, tea! In March, the Chamber was forced to cancel all of their in-person events, including networking. The events were opportunities for the attendees to hear speakers – so now how was that going to happen? "We were a membership organization that could not gather together in person, so we decided to bring the experts to everyone" said Dawn Mushill, Executive Director, Troy/Maryville/St. Jacob/Marine Chamber of Commerce.

The interviews range in topics from how to keep your computer safe to learning about new laws to leadership ideas. "We have such an array of experts in our Chamber and it was a shame to not have a venue where they could provide good tips, so we started "Drinking w/Dawn…and an Expert!" (DWDAAE)" said Mushill.

You can find the DWDAAE videos in a number of locations – the Chamber's FB page, the Chamber's website (www.troymaryvillecoc.com), the Chamber's Vimeo page and even on podcast.com. "The information was so good that we converted all of the videos to podcasts so more people could enjoy them" said Mushill. Travis, the Chamber's Marketing and Events Coordinator, created an opening and closing for every interview as well as graphics and uploading to the various sites. "We call Travis our guy of all trades. His talent is the reason that we could make these interviews happen" said Mushill.

To date, twenty eight interviews have been completed and published. If you are a member of the Chamber and you are interested in doing a DWDAAE, e-mail info@troymaryvillecoc.com. The Chamber anticipates another dozen or so interviews – maybe more. Be sure to visit the Chamber's website a www.troymaryvillecoc.com or give them a call at 618-667-8769.
CHAMBER KEEPS BUSY, ESPECIALLY DURING COVID
RELEASE DATE: June 10, 2020
Contrary to what some might believe, the Troy/Maryville/St. Jacob/Marine Chamber of Commerce has been busier than ever over the last three months. "The C-19 has provided an opportunity for the Chamber to step up and do what we do best – connect people and serve as a community resource" said Dawn Mushill, Executive Director of the Troy/Maryville/St. Jacob/Marine Chamber of Commerce. "Our goal is to exceed our members' expectations and show our members that we are there for them".

Things have been very different for the Chamber, including going virtual for networking events, communicating via Zoom for staff meetings and not being in the office together, as a team. "The three of us work together so well so we have tried to create the same teamwork via Zoom staff meetings, but it is just not the same" said Mushill. "Travis, Kim and I work very closely on every event and task. Kim has been with us for nine years and Travis has been with us for three years. We can actually finish each other's sentences. Plus, I miss the bantering between the two of them and our office dogs" said Mushill.

In an effort to remind the community that we have many small businesses in Troy, the Chamber has put together a coupon postcard that will be mailed out to all families and businesses within the four communities, as well as our Chamber members in other communities. The cards will provide discounts for participating restaurants, retailers and convenience stores. "We hope the coupons will remind everyone we have some great local businesses around" said Mushill.

Several of the Chamber's events will need to be rescheduled, including the Troy City Wide Garage Sale, the Troy Family Year of Fun, DesTROY Hate, E-cycling/shredding and others. The Chamber hopes to release some rescheduled dates soon.

For rescheduling information or more information any of the events put on by the Troy/Maryville/St. Jacob/Marine Chamber of Commerce, visit their website at www.troymaryvillecoc.com or give them a call at 618-667-8769.
MUSHILL AWARDED SECOND KEY TO THE CITY
RELEASE DATE: October 17, 2018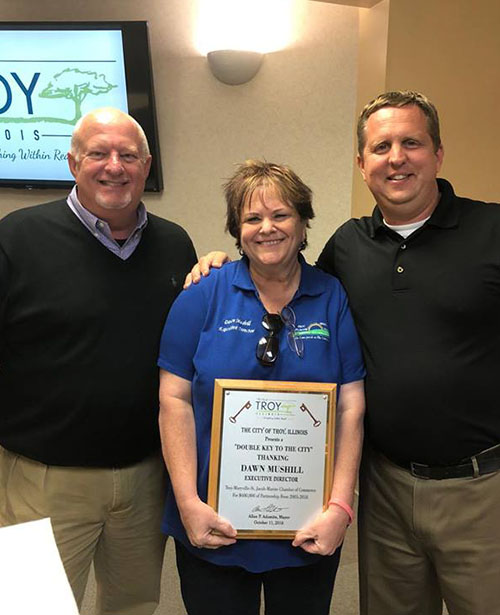 It was quite a surprise for Troy/Maryville/St. Jacob/Marine Chamber of Commerce Executive Director Dawn Mushill, when, at her own Chamber event, she was unaware of what Mayor Adomite had up his sleeve. "I had no idea – just doing our usual announcements and he pulled out a plaque. He started off by saying that someone once told him that if you surround yourself with great people, then great things will happen. That is what I always say so it peaked my interest" said Mushill.
From there, the Mayor discussed how the City and the Chamber have worked together over the years, utilizing over $600,000 in tourism funding (hotel/motel tax) since 2005 and put it all to good use. "The relationship between the Chamber and the City has resulted in countless events and activities, most of them completely free, from movies in the Park, to the City Wide Garage Sales, to the Chamber Expos and others. Each year, Dawn pours her time and talents into improving our community, and the City of Troy truly appreciates her leadership," said Troy Mayor Al Adomite.
BUCKET LIST ITEM #1, DONE!
RELEASE DATE: February 5, 2013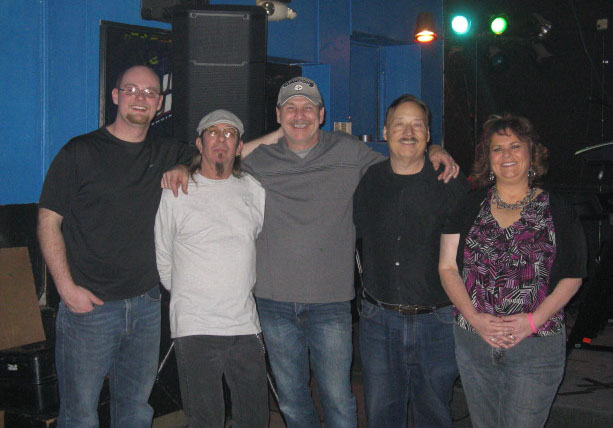 Since she was a very young girl, Dawn Mushill has always dreamed about being in a band. "My dad was in a band for over 35 years and I always envisioned myself on the stage" said Dawn. Well, her number one bucket list item has now come full circle. Dawn is the new lead singer in the Avery Hill Band. "It was just a strange thing that happened. Avery Hill was playing at Time Out in Troy. I heard them say over the microphone that they were looking for a lead singer. At break I approached the band and Shorty (leader) remembered me speaking at one of his classes. He even remembered that singing in a band was on my bucket list. So, I auditioned that night and was offered the job. Actually, when we got to Time out, we had no idea a band was even playing that night" said Mushill. "I remember coming back to the table and telling my husband 'I think I am auditioning tonight'."
Mushill started in music pretty early. Her dad was a musician as well as a music teacher. She started playing Suzuki violin at age 3 ½ and then switched to piano at 9. She never really got the bug to sing until karaoke became popular. "As a public speaker, getting up in front of people just really doesn't bother me so really, I just needed some help singing." She took voice lessons and worked on her songs at home. "Being in a band is totally different than karaoke. There are no words that come up when you are to come in and you have to know your stuff" said Mushill.
"At one point, I really thought about simply removing the bucket list item of singing in a band. At 47, I felt that the time had passed and with my crazy schedule, there was no way I could fit in band practices, band performances and all of the individual practice that was needed" said Mushill. But, clearly, if you have a passion for something and you really want it, there is always opportunity.
Mushill serves as the Executive Director of the Troy/Maryville/St. Jacob Chamber of Commerce and also the CEO of her own company, which specializes in training and keynote speaking. "I truly have the best of both worlds. I have been with the Chamber of Commerce for over twelve years and have owned my own company for eleven. The band is just one more passion to add to my life. I encourage anyone who has a dream to work on it every single day" said Mushill.
The Avery Hill Band has been around for twenty years. "Every single individual in this band is a seasoned musician. I feel like a very small fish in a very big pond but I have to say, each of them has really welcomed me." Mushill began singing with them three weeks ago and has set their big Troy debut for Friday, February 8 at Time Out in Troy. "It seemed like a natural fit to debut at the same place that I auditioned" said Mushill.
The band plays a variety of music including country rock, rock and even some blues. The band includes Shorty, Jeff, Derreck and Fish. "I think I might need a stage name too" said Mushill. The band has a schedule that includes local performances as well as performances throughout the Midwest.
For a complete schedule, you can visit www.dawnmushill.com or if you would like to book the band, Shorty can take care of you at 978-3730. You can also find Mushill's bucket list on the site where you will see that "singing in a band" has moved to the "done" column.